Search
Search Results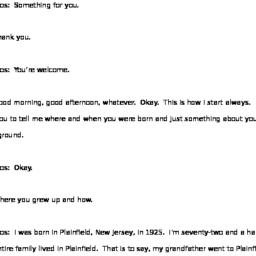 Name: Dryfoos, Joy G (Interviewee)
Format: oral histories
Date: 1998
Collection Name: Carnegie Corporation project. Part 2
Abstract: Childhood: Plainfield, New Jersey, family's political involvement; Antioch College: undergraduate degree, Yellow Springs, Ohio, cooperative education; life in Prague, Czechoslovakia; position with Junior Division of United Jewish Appeal; president, Ha

stings-on-Hudson League of Women Voters; demographics research and family planning interests; Sarah Lawrence College: M.A.; researcher, Planned Parenthood; director, Alan Guttmacher Institute: promoting family planning, sex education, teenage pregnancy awareness and prevention; professor, Columbia University School of Public Health; Rockefeller Foundation grant for school-based clinics research; Carnegie Corporation: research grants, member of Task Force on Youth Development, Development a Strategy for Youth at Risk work; chairperson, Center for Population Options; full-service community schools movement; member of National Academy of Science teen pregnancy panel; Fordham University Center for Schools and Communities fellowship; member of Emerging Coalition for Community; author: Adolescents at Risk, 1991; Full-Service Schools, 1994; Safe Passage, 1998; reminiscences of colleagues.
No Mappable Results in: 1 - 1