Search
Search Results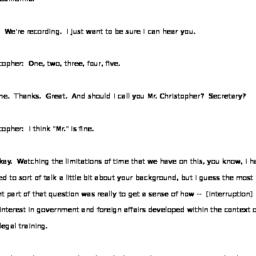 Name: Christopher, Warren (Interviewee)
Format: oral histories
Date: 1999
Collection Name: Carnegie Corporation project. Part 2
Abstract: (b. 1925); United States Secretary of State 1993-96; Carnegie Corporation of New York [Carnegie] board of directors 1987-90, chairman 1990-92: impressions of Carnegie board, calculated risks of grant-making, involvement in programs for childhood educa

tion and preventing deadly conflict, role of president David A. Hamburg; influence of Carnegie Commission reports and activities on policymakers; importance of philanthropic interest in foreign affairs; challenges facing new foundations; evaluation of foundation work; relationship of philanthropy, government and academia; interest in education and public service; personal highlights of association with Carnegie.
No Mappable Results in: 1 - 1