Search
Search Results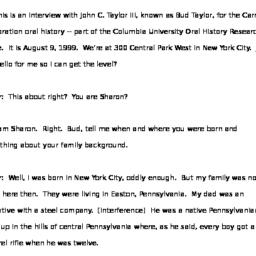 Name: Taylor, John C., 1929- (Interviewee)
Format: oral histories
Date: 1999
Collection Name: Carnegie Corporation project. Part 2
Abstract: Childhood Easton, Pennsylvania; education: B.A. Princeton University, J.D. Yale University Law School; commissioned to Judge Advocate General during Korean War, witnessing of martial law; job at Paul, Weiss, Rifkind, Wharton & Garrison: hiring of fema

le, minority lawyers, work in litigation, entertainment law and corporate law practice; work for Legal Defense Fund giving legal advice to black entrepreneurs in 1950s; commitment to improving education: involvement in American Field Service, international student exchange network, as trustee, director, and chairman of board; 1976 election to Carnegie Corporation of New York [Carnegie] board and Finance and Administration Committee: modernization of investment policies; reflections on presidency of Alan Pifer: ideas on civil rights, innovation, belief in funding small organizations; relation of civil rights-oriented legal reform to Carnegie charter; 1979 attempt to establish South Africa equivalent of Legal Defense Fund: 1984 Second Carnegie Inquiry into Poverty and Development in Southern Africa, tour of homelands, import of Carnegie's support of democratic change in South Africa; role as Chair of Carnegie Board of Trustees; importance of funding early education programs; thoughts on American philanthropy: the need for more action, application of research.
No Mappable Results in: 1 - 1