Search
Search Results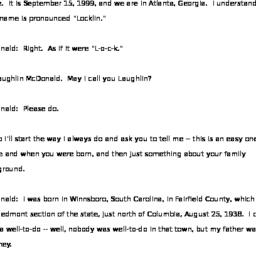 Name: McDonald, Laughlin (Interviewee)
Format: oral histories
Date: 1999
Collection Name: Carnegie Corporation project. Part 2
Abstract: Childhood: born 1938 Winnsboro, South Carolina, influences of growing up in segregated South; Columbia University: B.A. English, 1960, adjustment to metropolitan New York environment; conscription to U.S. Army: dislike of military experience, racism a

t Fort Jackson, Mississippi military base; J.D. University of Virginia; American Civil Liberties Union [ACLU] in Atlanta from 1972: Operation Southern Justice: desegregation of prisons, juries, the bar; legal defense of Ku Klux Klan's right to assemble in Saucier, Mississippi; Voting Rights Project: efforts to redistrict southern states, majority bloc voting, Native American voting rights litigation; ACLU's relationship with Carnegie Corporation of New York and other foundations, crucial role of philanthropic support, leadership role of foundations in 1980s: commitment to voting rights, struggle with southern barratry statutes designed to stymie civil rights lawyers, description of typical southern district court judge, negative impact of racial politics on legislative, judicial systems.
No Mappable Results in: 1 - 1