Search Results Header
Search Results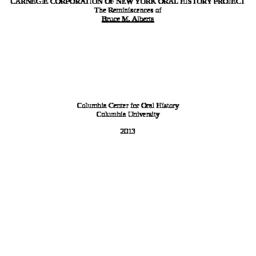 Name:

Alberts, Bruce (Interviewee)

Format:

oral histories

Date:

2012

Collection Name:

Carnegie Corporation project. Part 3

Abstract: (b. 1938); Trustee at Carnegie Corporation of New York from 2001-2009; currently emeritus professor of biochemistry and biophysics at University of California San Francisco; childhood: born in Illinois, attended New Trier High School, influential assi

gnment to discover how a television works; formal education: Harvard University, BA 1960, PhD 1965; edited science textbook; influences: James Watson, Governor Richard W. Riley, Governor Jim Hunt, Michele Cahill, Deborah Meier, David A. Hamburg, Vartan Gregorian, Sam Nunn; development of Science Education Partnership in San Francisco; elected president of National Academy of Sciences in 1993; chaired Genome Committee in 1987; development of national education standards; involvement with Carnegie Corporation in 1990s on "Years of Promise" report; invited to become a trustee at Carnegie Corporation; interplay between board members and staff; development and efficacy of programs: Small Schools movement, Teachers for a New Era, Taking Science to School, Next Generations Science Education Conceptual Framework, Opportunity Equation, Strategic Education Researcher Program; role and dynamics of the board of trustees on grant-making; involvement with Gordon and Betty Moore Foundation; perspective on importance and failures of science education; comparison between No Child Left Behind and Race to the Top; travels: with Carnegie to Egypt and South Africa for libraries programs, Pakistan as science envoy for Barack Obama, India and China for Science Magazine; ethics and joys of foundation giving.