Search Results Header
Search Results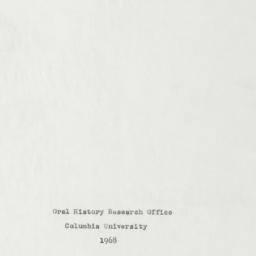 Campbell, James Winchester, 1903-
Name:

Campbell, James Winchester, 1903- (Interviewee)

Format:

oral histories

Date:

1967

Collection Name:

Carnegie Corporation project. Part 1

Abstract: Associations with the Carnegie Corporation in 1925 and 1928-29; sale of US Steel bonds; accountant for Corporation, 1933; impressions of the Treasurer's office and other parts of the Corporation, fiscal matters; Assistant Treasurer, 1953; Treasurer, 1

961; the role of the treasurer in a foundation. Impressions of various foundation personalities.