Search Constraints
Search Results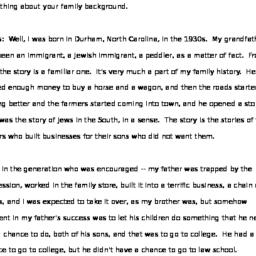 Name: Evans, Eli N (Interviewee)
Format: oral histories
Date: 1999
Collection Name: Carnegie Corporation project. Part 2
Abstract: Born, Durham, North Carolina; family background: Jewish immigrant grandfather, son of E.J. Evans, mayor of Durham 1950-1963, Zionist upbringing; education: University of North Carolina, B.A., Yale Law School J.D.; early professional experience: speec

h writer for governor Terry Sanford, the Lyndon B. Johnson campaign 1964, the Barry M. Goldwater campaign; White House staff of resident White House intellectual Eric F. Goldman, rejoined Terry Sanford as staff director of the Future of American States, a Carnegie Corporation of New York [Carnegie] funded enterprise; senior program director of the Carnegie Corporation 1967-1977; president of Charles H. Revson Foundation 1977-2003; author of The Provincials: A Personal History of Jews in the South; discussion of Carnegie presidents Frank Keppel, John Gardner, Alan Pifer, David A. Hamburg; activities at the Carnegie Corporation: funding of projects in favor of the civil rights movement, Children's Television Workshop, Israeli-Palestinian Sesame Street, Children's Defense Fund; reflections on the limits of Carnegie, philosophy of philanthropy, states as engines of experimentation, public library system, art of grant-making, role of venture philanthropists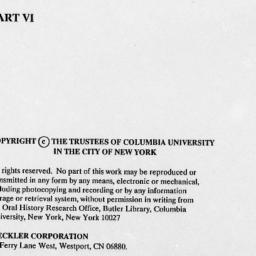 Name: Larrabee, Eric (Interviewee)
Format: oral histories
Date: 1967
Collection Name: Carnegie Corporation project. Part 1
Abstract: Carnegie Endowment African Studies Program; music and art development in West Africa; American Studies program; American Shelf Project; European unity conference in Italy; International Education Act; differences in the structures of foundations, the

need for creative thinking in foundations.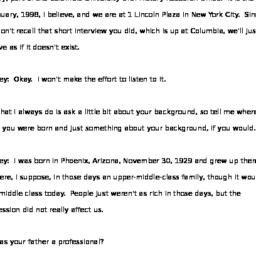 Name: Cooney, Joan Ganz (Interviewee)
Format: oral histories
Date: 1998
Collection Name: Carnegie Corporation project. Part 2
Abstract: Early childhood and education: Phoenix, Arizona; influence of parochial schooling on philanthropic values; Dominican College of San Rafael, University of Arizona at Tucson, degree in early childhood education; desire to work in television, move to Ne

w York City: publicity work for soap operas and U.S. Steel Corporation; volunteer for Partisan Review; work for Public Broadcasting Service [PBS] Channel Thirteen: producer of cultural and political debates; work for weekly show Court of Reason; U.S. policy on Cuba, civil rights, communism, education for young children, documentaries, winning Emmy for documentary Poverty, Anti-Poverty and the Poor; funding problems at Channel Thirteen; interest in potential power of educational and public television; research on affective versus cognitive learning styles and impact on creation of television shows for children; colleagueship with Lloyd Morrisett; Carnegie Corporation of New York [Carnegie] funding of 1966 three-month study of cognitive development, influence of psychologist Samuel Rabinowitz's research on how infants learn through sight; Children's Television Workshop: Sesame Street proposal, support from government, positive reception from Carnegie and the Ford Foundation, role of the Corporation for Public Broadcasting in targeting middle-class and disadvantaged children, efforts to gain nationwide audience; work with Jim Henson with puppets and Joe Raposo with music, status as semi-autonomous arm of National Educational Television; influence of Head Start, work with Educational Testing Service on curriculum; changing standards in television; creation of Non-Broadcast Materials Division for income, end of government monetary support in early eighties, expansion of programs to other countries.
No Mappable Results in: 1 - 3