Search Results Header
Search Results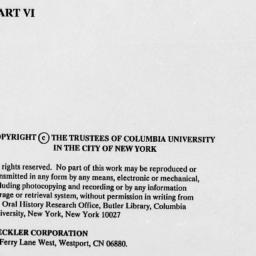 Holland, Kenneth George, 1907-1977
Name:

Holland, Kenneth George, 1907-1977 (Interviewee)

Format:

oral histories

Date:

1967

Collection Name:

Carnegie Corporation project. Part 1

Abstract: Early involvement with Carnegie Endowment for International Peace, 1932-1933; American Council on Education; American Youth Commission, 1935-1940; early planning of Fulbright program and the Fulbright Act, 1946; serving as permanent U.S. representativ

e of UNESCO in Paris; becoming president of Institute of International Education 1948-1950; survey of international exchange programs; ten-year Carnegie Grant to IIE, history of the IIE; IIE foundation grants and government contracts; expansion of IIE and purchase of new headquarters; the African-American Institute (AAI); Tom Mboya and Kennedy Airlift scholarships for Kenyan students; African Scholarship Program of American Universities; the American Council on Education's Africa Liaison Committee, 1956-66. Impressions of Charles Dollard, John W. Gardner, Pendleton Herring, Robert M. Lester.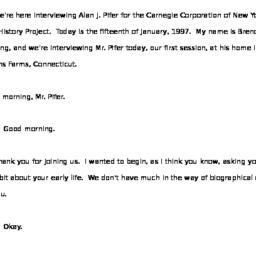 Name:

Pifer, Alan J (Interviewee)

Format:

oral histories

Date:

1997-1998

Collection Name:

Carnegie Corporation project. Part 2

Abstract: Alan Jay Parrish Pifer, b. 1921. Childhood in Massachusetts; education : Groton School, Harvard University, 1940-1941, 1945-1947, B.A., Emmanuel College, Cambridge University 1947-1948; executive secretary, Fulbright Commission, London, England, 1948-

1953; Carnegie Corporation: management of African program, 1953-1963, vice president, 1963-1965, acting president, 1965-1967,president 1967-1984; presidential initiatives: inclusion of women and minorities in the foundation, educational television, creation of Second Carnegie Inquiry on Poverty in Southern Africa, civil rights interests, Consortium for the Advancement of Private Higher Education; reflections on foundation work: scope of grant-making, program budgeting and funding, hiring and appointments, relationship with staff, trustees and other foundations, accountability and evaluation, risk-taking, responsibility to public, influence of Carnegie family; public profile; personal commitment to political transformation in Southern Africa; post-Carnegie career: evolving view of foundations, advisory role, work on social issues of elderly and minorities; reminiscences of colleagues.