Search Results Header
Search Results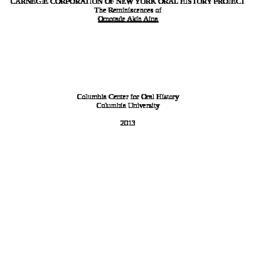 Name:

Aina, Tade Akin (Interviewee)

Format:

oral histories

Date:

2012

Collection Name:

Carnegie Corporation project. Part 3

Abstract: (b. 1951); Carnegie Corporation Program Director, Higher Education and Libraries in Africa. Lagos, Nigeria in the 1950-60s; choice to pursue degrees in sociology at University of Lagos, London School of Economics and University of Sussex; return to

University of Lagos in 1980: teaching, commitment to Nigeria, involvement in National Democratic Coalition; service as deputy executive secretary at Council for the Development of Social Science Research in Africa in Dakar, Senegal: support of autonomous African research and agendas; role as program officer at Ford Foundation for Governance and Civil Society program in Nairobi, Kenya: training, description of colleagues and office culture, developing African Philanthropy Initiative, mobilization of small-scale donors, promotion to regional representative at Middle East and North Africa office in Cairo, Egypt; influence of upheaval in Kenya in 2007 on work on women's rights and sexual equality; Partnership for Higher Education in Africa: initial meeting of foundation partners, comparison of foundation funding strategies, investment in bandwidth capability at universities, desegregation of South African universities following end of apartheid, role of evaluation in gauging grantee work, impact of Women's Scholarship Program on individuals and communities. Recruitment to Carnegie Corporation in 2008 as director of Higher Education and Libraries in Africa program: envisioning and enacting new programming on training and retaining next generation of African academics, establishing disciplinary networks within humanities and sciences, impact of 2008 recession on program funding; Public Libraries in South Africa program: choice to work in South Africa, grantee selection process, unique role/utility of libraries for South Africans; reimagining universities to meet African needs; comparison of Western versus non-Western measures of performance in education in Africa and United States; relationship of health of universities to health of society in general; challenges of measuring outcomes in grantmaking given short timeframes of grants; reflection on instability of Middle East and North Africa region and relation to "Arab Awakening": concern over treatment of Arab Revolution by North American foundations, importance of peacebuilding to success of African universities, graduate programs in peacebuilding supported by Carnegie Corporation; place of philanthropy within humanity.